Affiliate statistics explained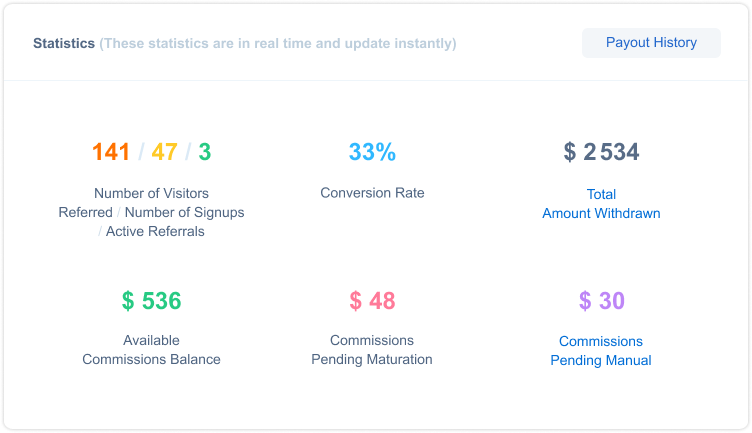 Number of Visitors Referred / Number of Signups / Active Referrals
The comparative characteristics of the:
total number of clicks on your referral link (the first number – 141),
number of hosting services registered under your referral link (the second number – 47),
number of active services for which you receive a reward (the third number – 3).
Conversion Rate – the percentage ratio of the number of hosting services registered with your referral link to the total number of referral link visitors (47/141*100=33%).
Total Amount Withdrawn – the total amount of the affiliate reward has been withdrawn during the entire period of your participation in the affiliate program.
Available Commissions Balance – the total amount of the affiliate reward that might be transferred to your account balance at the moment (for automatic invoice payment in the future) or might be requested to withdraw to your PayPal (use the form which is provided under the statistics section in the "Partnership" section).
Commissions Pending Maturation – according to the rules of the affiliate program, the affiliate reward is paid one month after each payment of your referral client. This field will display the amount of all partnership payments made less than 30 days ago. These funds are frozen in your affiliate program and you cannot withdraw them yet. A part of the partnership reward you received 30 days and more ago, would be automatically transferred from this field to the "Available Commissions Balance" field.
Commissions Pending Manual – some commissions contradict the rules of the affiliate program and must be checked manually. For example, the affiliate reward cannot be credited if the hosting service of an affiliate client has been terminated and its payment has been refunded. The manual check of the commission is also required if the amount of the payment has been changed due to a tariff upgrade/downgrade. Thus, the amount of the reward can be decreased or increased, depending on the adjustments made to the affiliate client's invoice. Unfortunately, automatic verification of such scenarios has not yet been implemented. If you see some amount of funds displayed in this block, create the ticket and we will check this commission. We plan to automate this process in the nearest future.
Payout history – you can observe the date of payment, the amount of reward, your details, the number of active clients, and your affiliate percentage (if your affiliate account works on the "Percentage of Payments" option).